Xique - FFP2 mask with CE certificate
3,60 €*
In stock
✔
Safety through a comfortable fit
✔
Hygienically individually packed
✔
CE-certificate – Norm: EN 149:2001 + A1:2009 FFP2 NR
Goods in stock from December
Shipping: 1-3 working days

Click for more information
Buy Xique FFP2 certified face masks online at OdemShop. We offer you ffp2 masks that meet all requirements and are also comfortable to wear.
<!-
Product information "Xique - FFP2 mask with CE certificate"
FFP2 Mask CE certified
Buy CE certified FFP2 mask from Xique: The safest choice for respiratory protection
An FFP2 mask is a type of respiratory protective mask used to prevent inhaling particles and aerosols in the air. It is a type of personal protective equipment (PPE) used in various environments where inhaling harmful substances must be avoided. CE certified means that the mask meets European requirements and has been successfully tested.
FFP2 Mask CE certified - Why should you buy Xique FFP2 masks?
If you want to buy a CE certified FFP2 mask, there are many options on the market. Why should you choose Xique? Here are some reasons:
High quality: Our masks meet all requirements and have been successfully tested. They are durable and can be worn for several hours.
Comfort: We understand that wearing a mask can be uncomfortable. However, our masks are designed to fit comfortably on your face and not slip. They are also easy to breathe through.
Price: We believe that everyone should have access to high-quality protective equipment. That is why we offer our masks at an affordable price.
What are the benefits of a Xique FFP2 mask?
A CE certified FFP2 mask provides more protection than traditional masks. Here are some of the benefits:
Protection against aerosols: A CE certified FFP2 mask protects you from inhaling aerosols that can spread diseases.
Filtering of particles: The mask also filters smaller particles from the air, such as dust and smoke.
Durability: FFP2 masks are more durable than other masks and can be worn for several hours.
Protection of others: Wearing a mask not only protects you, but also others from the spread of diseases.
How to use a CE certified FFP2 mask?
It is important to use a CE certified FFP2 mask correctly to ensure maximum protection. Here are the steps:
• Wash or disinfect hands thoroughly before putting on the mask.
• Remove the mask from the packaging.
• Hold the mask with the metal nose piece up and the straps in your hands.
• Place the mask over your face and pull the straps over your ears.
• Press the metal nose piece to ensure a closer fit.
• Make sure the mask covers your nose and mouth and that there are no gaps.
• Wear the mask for the recommended duration (usually up to 8 hours).
• Remove the mask without touching the front.
• Dispose of the mask properly.
Conclusion on CE certified FFP2 masks from Xique
If you want to buy a CE certified FFP2 mask, make sure you choose a high-quality mask that meets your requirements. At Xique, we offer you a mask that meets all requirements and is also comfortable to wear. We are proud to offer you safe and reliable protective equipment that provides you and others in your environment with protection. Do not hesitate to contact us if
FFP2 masks CE certified by Xique: Frequently Asked Questions
FFP2 certified face mask from Xique: How often should I replace it?
It is recommended to replace the mask every 8 hours or sooner if it becomes moist or damaged.
FFP2 certified face mask from Xique: Is it reusable?
Disposable FFP2 masks should not be reused. However, there are some FFP2 masks that are reusable as long as they are properly disinfected and stored.
FFP2 certified face mask from Xique: Is it washable?
Disposable FFP2 masks should not be washed. If you have a reusable FFP2 mask, you should follow the manufacturer's instructions for cleaning.
FFP2 certified face mask from Xique: Can I wear it comfortably with a beard?
It is not recommended to wear an FFP2 certified face mask with a beard as it may compromise the seal.
Are FFP2 certified face masks better than other masks?
Yes, FFP2 certified face masks offer higher protection than regular masks as they filter smaller particles and aerosols.
Where can I buy an FFP2 certified face mask?
You can buy an FFP2 certified face mask from many pharmacies, online shops, and from us. We offer you a high-quality mask at an affordable price.
Technical Data
Mask
Pack of 20 pieces
Color: White
Model: LK-Z006
Carton
1000 masks per carton
Size: 65 x 27 x 45 cm
Weight: 11 kg
Certificate, Standard & Protection class
Protection class: FFP2NR
Certification: CE
Standard: EN 149:2001 + A1:2009
FFP2NR Mask Instruction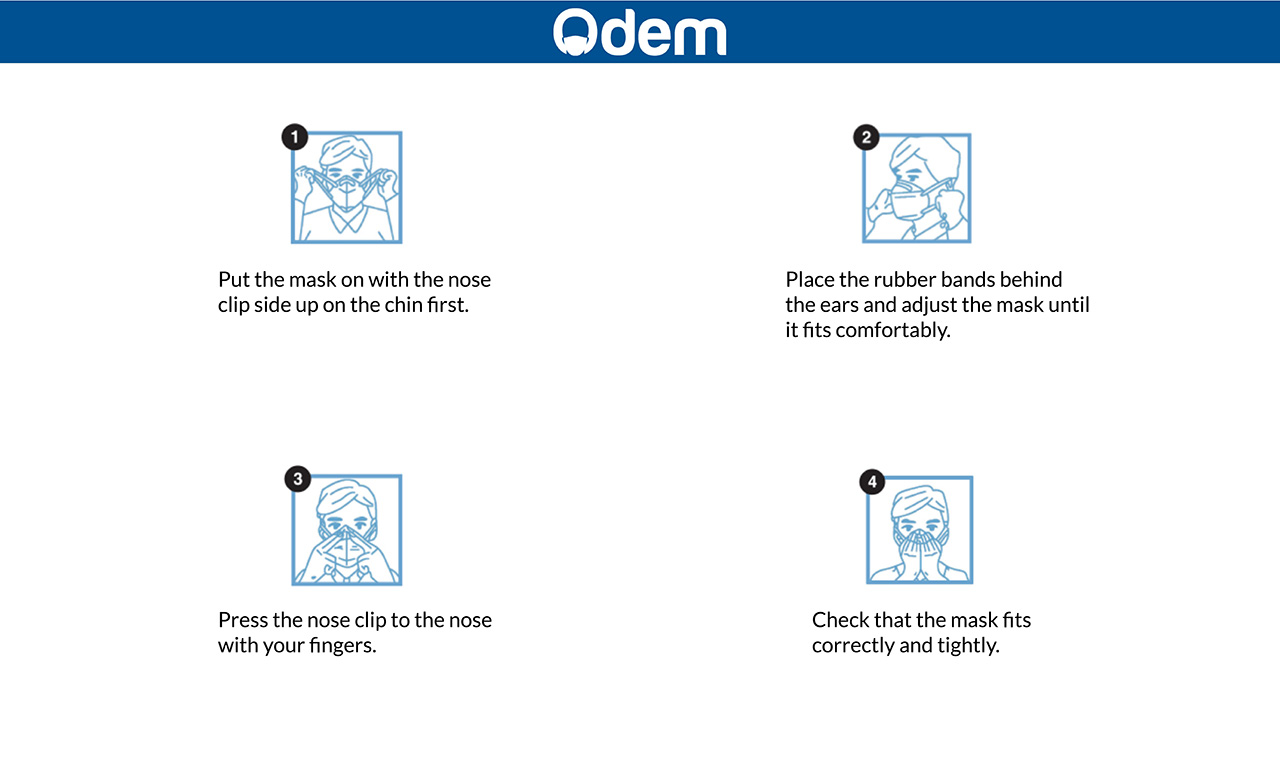 General FAQ
How does Odem ensure high-quality at such a fair price?
The Better AG, founded in 2006 in Switzerland, has become the main supplier to thousands of companies in recent years.
The strategy:
• Purchase in large volumes
• Close quality control of the goods
• Pass on the purchasing advantages to our customers
• By the possibility to receive free samples, there are no risks for the customers.
What is the money-back guarantee?
If you are not satisfied with your purchase, you can return it within 14 days of purchase for a full refund.
What payment options are available?
We offer a convenient payment by invoice after receiving the goods to a German bank account.
Is the goods already customs-cleared?
Yes, the goods are already customs-cleared and will be delivered to you from our German warehouse. There are no additional costs for you.
Product sheet