Hecin - HC800 2019-n-CoV PCR Reaction Mix - Nucleic Acid Test
Buy Hecin HC800 PCR nucleic acid test online at OdemShop. This PCR test kit is an efficient and reliable solution for the detection of COVID-19. Order today!
219,70 €*

%
477,00 €*
(53.94% saved)
gross: 234,98 €
Content:
96
(2,29 €* / 1 Stück)
Free shipping
Available, delivery time 4 - 7 Working days
Product information "Hecin - HC800 2019-n-CoV PCR Reaction Mix - Nucleic Acid Test"
What is reaction mixture?
The reaction mixture is located in the PCR vessel or the 8-tube strip. The thin-walled vessel design optimizes heat transfer, making the reaction more specific and increasing yield. By adding a drop of the sample to the PCR reaction vessel, the lyophilized reaction mixture dissolves.

Application of Hecin - HC800 QPCR Reaction Mixture - Nucleic Acid Test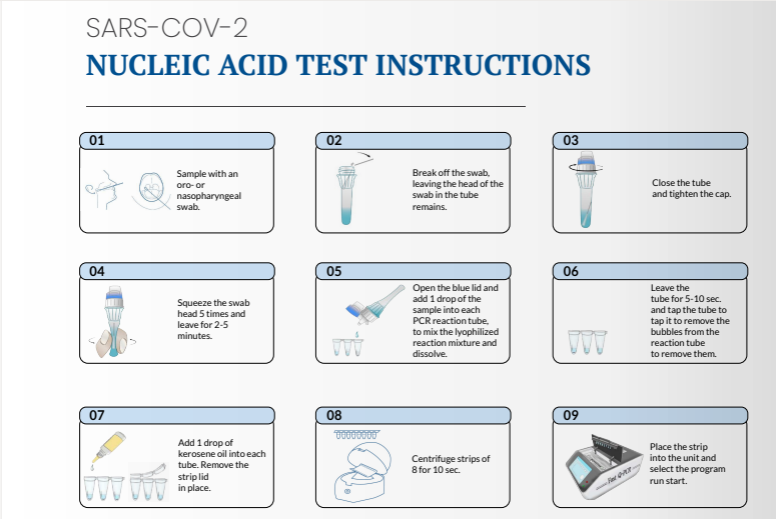 Technical Data
The PCR vessel consists of 8-tube strips that can be separated.
Pre-filled PCR mixture
Thin-walled vessel design for efficient heat transfer.
CERTIFICATIONS
It has "CE" and "Declaration of Conformity" certificates.
CONTENTS OF TEST KIT
2019-n-CoV PCR Reaction Mixture (lyophilized) x 96 tubes,
2019-n-CoV positive control (freeze-dried) x 1 tube,
Negative control x 1 tube, 6 ml x 1 vial of paraffin oil
PACKAGING
96 tests per box
960 tests per carton
Questions & Answers about the reaction mixture
What is the recommended storage temperature?
Can be stored for up to 18 months at –25°/ 8°
Can be stored for up to 3 months at room temperature 37°
Is the 8-chain separable?
Yes, it is separable.
What is the sensitivity of the kits?
The sensitivity is 98.4%.

General FAQs
How does Odem ensure high-quality at such a fair price?
The Better AG, founded in 2006 in Switzerland, has become the main supplier to thousands of companies in recent years.
The strategy:
Purchasing in large volumes
Tight quality control of goods
Passing on the purchasing advantages to our customers
By offering the possibility to receive free samples, there are no risks to the customers.
What is the money-back guarantee?
If you are not satisfied with your purchase, you can return it within 14 days of receipt for a full refund.
What payment options are available?
We offer a convenient payment via invoice after receipt of goods to a German bank account.
Has the goods already been cleared by customs?
Yes, the goods have already been cleared by customs and will be delivered to you from our German warehouse. You will not incur any additional costs.
Product Sheet